How To Make Streusel Topping
Streusel is a crumbly topping usually made with real butter, flour, and sugar. It's baked on top of muffins, breads, cakes and pies and can include a variety of different flavors! Learn how to make this sweet and savory streusel topping.
Get Started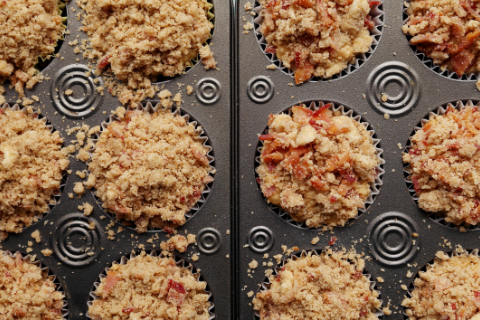 Step 3: Top Pastries & Bake
In this recipe, stir in bacon and coat completed streusel mixture on top of each muffin generously before baking. Not the flavor you're looking for? Mix in nuts, dried fruits, or other delicious toppings to create a customized crumble.
Ready to get started?
Austin Allred on Family Values and Sustainability
Learn how a young farmer incorporates family life and sustainable innovations into dairy farming.
Jae
This recipe provides a great base for any streusel. It is the rock from which you will launch your streusel odyssey. I streusel everything! It's a great way to add a touch of flavor and fancy to...well...everything. From vegetables to meat to desserts, sweet and savory, streusel goes with ....yep - everything! You can add cocoa, melted chocolate, cream cheese (reduce the butter a bit as needed), powdered or granular sugar in place of brown sugar and/or flour, even savory herbs like thyme, rosemary, and sage (yes, I streuseled a turkey and stuffing one year - everybody loved it!) Pro tip: be mindful if using granular sugar - it tends to brown or burn more quickly than the others. In fact, keep cooking rates in mind for all additions. If necessary, you can always give the streusel a little pre-bake or wait to add it part way through item to be streuseled's cooking time. Other great inclusions/flavor influences: Garlic, Old Bay, Tony Cachere's Creole seasoning, red pepper - powered or flakes, cinnamon, allspice, ginger and Asian spices, Mexican/South American spices, Italian seasoning blends, Greek, Caribbean, Mediterranean, Indian, chili powder or crushed chili, cheese(s), bacon, sausage, any and all Mrs. Dash's blends, Montreal Steak seasoning and it's relatives, salad seasonings, such as Green Goddess, even bottled salad dressings (reduce butter/increase flour), in fact - mix in some salad seasonings or fruit flavors and make a cold, no bake streusel for salads, ice cream and other cold stuff! If it comes in a shaker bottle from the spice section, it can and should at some point contribute to a streusel. Add in some freshly diced pepper or onion, along with some bits of ham and cheese to make a nice crumbly streusel topper for an egg-y breakfast casserole. Streusel coated rum balls - with a bit of vanilla and rum flavoring added in for good measure. Which brings us to anise, liqueur and liquid flavor enhancements - Kahlua, Bailey's, rum, brandy, coffee/espresso (over whipped cream!), vanilla/vanilla bean, fruit flavors, mint flavors, even sake or rice/Asian wines. Add some heat with spicy and cool things off with minty/fruity. Dress up some hot chocolate with a flavorful flotsam of marshmallow and dark chocolate bits streusel. (Go for broke - add in some crushed candy cane or cinnamon candies.) Top off your turf with a surf streusel that incorporates crab, lobster, or shrimp. Works great over a dark hunters sauce or cheese bisque. Streusel inspires. You'll find yourself making streusel like blends to act as fillers for stuffable stuff - that you can then top with a complementary streusel! I make a stuffed lasagna pizza, where I use a deep dish pie pan, then food processor or finely chop and combine all pizza topping ingredients, then start layering the blend over crust and sauce (crust, sauce, pizza blend mix, cheese, repeat, using thin, possibly pre-crisped crust for the interior layers, topping off with a crust, light sauce, then cheesy streusel made with leftover pie crust! Aren't you clever and resourceful?!) Cut into pie slices and serve - sooo good and streusel-y for chilly nights! You can make a similar dish with chicken pie ingredients - drives away the chill just thinking of it! Yeah, once you go streusel, you never go back. Anybody can dump a can of French fried onions on top of some green bean casserole - but make them into a savory streusel with a bit of crumbly sausage and bacon, maybe some mushroom bits, and voila! - pure sorcery. You can use streusel to add a splash of color, too, either from the ingredients, colored sugar, or a bit of food coloring. Streusel can add texture, too. Add sparklies and pearlies and other shiny blingies to a confectioner sugar base and streusel a wedding cake - yes, you can! You can also add this and other streusels as a surprise layer (thinly applied over a frosting layer) in the interior of your twinkling tower of matrimonial tribute. But can you streusel a prime rib or filet? Well of course you can. Be thinking horseradish, minced onion and garlic (or powder, but the mince adds a nice texture, and heck, you've gone this far), and maybe some bullion or Worcestershire, honey and dry mustard. And, for these special cuts of meat, a little top shelf bourbon or maybe a dry sherry won't hurt one bit. Sprinkle on top or roll the whole roast or filet in your savory streusel to finish, fast in a hot oven to make a crispy, textured crust. Streusel is limited only by your imagination and spice/flavoring/additives selection. Once you're into it, you'll find yourself standing in front of the spice and flavorings section, looking for interesting things to add to streusel (full disclosure - you might even seek out specialty shops for more exotic or authentic spices). Now, go crazy, be creative, be imaginative, be BOLD, and go forth and streusel!